Knowledge-Intensive Service Systems (KISS)
Terry Nolan
Senior Research Lecturer - Business Degree: Management
Auckland University of Technology, New Zealand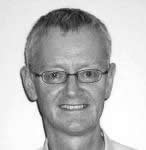 Terry Nolan graduated with a PhD in Information Systems from the University of Salford in 2003. In 2006 he took a post as a senior research lecturer at the Auckland University of Technology in New Zealand.

Terry's research interest lies in the application of systems thinking and complex systems to access and co-ordinate 'silos' of knowledge within organisations and society. He has used this approach for researching various fields of study, including organisational psychology, information systems, leadership, and public policy. By employing a range of qualitative research methods including Action Research and Soft Systems Methodology he has investigated structural and discursive sources of power and resistance within human and computer-mediated relationships.

He has managed and partaken in numerous projects for advanced Textile Technology applications (ERDF & MASTRI); Socially and Culturally Sustainable Biotechnology in New Zealand (FRST); systemic approaches to burglary reduction (UK Police Force); Knowledge Management in SMEs (ERDF) and Telematic Networking of Supply and Customer Chains (ERDF).